THE LATEST SCOOP. . .
(or just any rubbish that i feel like spouting)
November 29th 1999
What didya think happened to the webowner..infected by the Y2K bug? Nah...way too early =) Actually, I was pretty much caught up with work(can't believe we had to start the school hols two weeks later than the rest) and some personal stuff. Anyways, i've been getting really bored with the page's layout and will probably give it a face-lift anytime (we're talking about about a month's time or up to a year...heheh). Still i'm rather lousy at web construction....so do keep ur expections low =b
Anyone catching "My Lonely Tarts"? I'm terribly broke, so my chances of catching it would be awfully low (sponsors, anyone?) Besides Kym and Bryan, they've got great casts like Lim Yu-Beng, Kumar (in case you did not tune in to Simon Lim of class 95's interview with Sharon....she actually used to have a crush on him....*LOL*) and of cos Gurmit Singh (making a guest appearance only from 3rd to 5th Dec). So if you've got some $$ to spare, go watch it....who knows, you might just get to see Sharon...hoho, afterall, Kym and Bryan's in it yah? Dun hold me responsible if u don't get to see her tho, cos i'm only speculating. At the end of the day, the primary reason to catch this production should be the performance itself, ritey?
November 1st 1999
Sorry for the delay, I've been having trouble uploading the page since a month ago, but this was the worst case cos I was unable to upload the page for 10 consecutive days. Yikes!! It was pretty frustrating, wonder if the problem lies with Tripod, Microsoft Frontpage or my Internet Service Provider (which Tripod claimed to be the cause). Remedies, anyone?
October 21st 1999
I am sooo happy! Not only is Sharon once again nominated for the "Best Host" category, you will also be able to spot her as one of the nominees for "Best Comedy Performer". I feel that she deserves clinching at least one of these awards, and of course, qualifying for the top ten most popular female artistes. Anyway, let's all just pray hard for Sharon and that she will never have to go through that "so-near-yet-so-far" disappointment which i'm sure many fans had all shared with her last year (i thot it was majorly unfair!) ever again. Bet you guys can't wait to see Sharon onstage, expressing her "special thanks" yah? So....keep your fingers crossed, and keep your faith!
October 13th 1999
Hey'all! I'm currently caught up with my exams, three down....four more agonising days to go!! Yup, and i'll be having the Math and Physics paper tomorrow, so i'm feeling kinda jittery right now. *Sigh* What sadness lengthens Liwen's hours? Not having that(those carefree non-exam days), which, having, makes them short. (Taken from me Lit text, which happens to be the examination subject for today! =)) Here's a coupla pics of Sharon which I conveniently "stole" from the backstage photographer....just kidding. It was actually taken from the mediacity website, but i figured out that some of u might be as lazy as i or would just want to take a peek at sharon's photos rather than go thru the whole article, so here goes...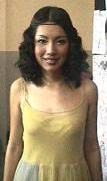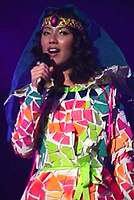 sorry, these pics aren't clickable =(
October 6th 1999
Here's the pic that Sharon had graciously obliged to take with us the night before. But due to Joyce striking a rather mild resemblance of our maths teacher and the somewhat unsightly presence of my zit , we decided to settle for a half of our faces each.
Afterall...it's Sharon who's supposed to be the star of the pic, hence our prime reason for not "hogging the limelight"!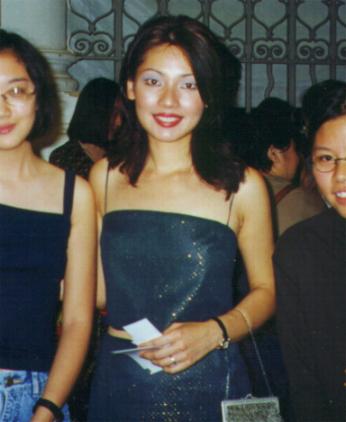 Any idea who's who?? No prizes for guessing correctly tho!
October 4th 1999
Just got back from Victoria Theatre where my friend and I watched "I Have a Date With Spring" staged by Toy Factory. The cast includes Thomas Ong, Aileen Tan, Constance Song, Emma Yong and many more.
And what a star studded night it was, even my friend had an unusually pink face---a result of being awfully star struck.
Nevertheless, I was still more interested in the production itself and of course *gasp* seeing Sharon! I was a wee bit too nervous to notice what she wore today, but remembered that she looked really nice, glittery and all...way to go, Sharon!
The entire stage performance was relatively entertaining, containing bits of humor every now and then to perk up the audience. But somehow, I cannot seem to picture Sharon playing the role of "Xiaodie" when it was first staged here in 1995, bet it must have really been an interesting one.
And did anyone notice the sky tonight...which was particularly full of stars?
"Starry starry night..."
September 29th 1999
To get your very own email addy that reads yourname@sharonau.i-p.com, go to www.sharonau.i-p.com. Kinda neat huh? It's free too, so what are you waiting for? Shooo...off you go!!
And recently, i received a really nice cg gift on the site's first 100 hits from me classmatey, Joyce....thanks, it was really encouraging of ya!
September 16th 1999
How's everyone doing? Fine, I hope! In case you still don't know, Sharon and Mr Ong *grins* are featured on the cover of TEENAGE mag (Oct 99)....if you think the article is gonna focus on their much-talked-about relationship... ...then you're in for a surprise!! It's a rather pleasant one tho...cos instead of the usual boring and stereotyped interviews, you actually get to take a little peek into both their bags, and check out the stuff they never leave home without. Pics from the mag can be viewed here!
And to those taking their prelims, altho I reckon you probably wouldn't be here right now...best of luck and don't forget to have ample rest!
September 4th 1999
It's amazing how time flies, but it isn't really a good sign when the the exams are just around the corner...I just got a guest book, so it should be up pretty soon, do give sincere comments and puhlease...refrain from using vulgarities, i would greatly appreciate it =) There'll be a little surprise in store for you, but don't get your hopes too high, cos i really mean "little", clue: it's just another section that I'm gonna add to the site *dodges rotten food thrown in from all directions*
August 28th 1999
Hi again, I'm finally back, safe and sound, from my Outward Bound S'pore course at Pulau Ubin, it was really an experience I would never ever forget...but I shall stop here before I yak too much about it and start departing from the main subject...so it's back to SHARON NEWS! Sharon and co-host Bryan Wong hosted a concert featuring a couple of homegrown talents at Fort Canning this evening(7.30-9.30pm), due to my one week's absence, I only got to know about this today at 9pm which meant that I might just be just in time for the closing if I had gone then. To think I had hoped to see a performance by Es'Choir as I heard that they were really good at harmonising! Sigh...perhaps the one and only downside of OBS...So if you have been to Fort Canning to catch the concert, do drop me a mail and tell me more about it, I'd feature it in Sharonspotting as long you don't have a problem with that. That's all for now!
August 20th 1999
Did you watch City Beat last night? Well i had a good laugh, hence a very good "relaxant" =) As for Kym and Lina's comment on Sharon not being adorable as a kid....ARE THEY KIDDING?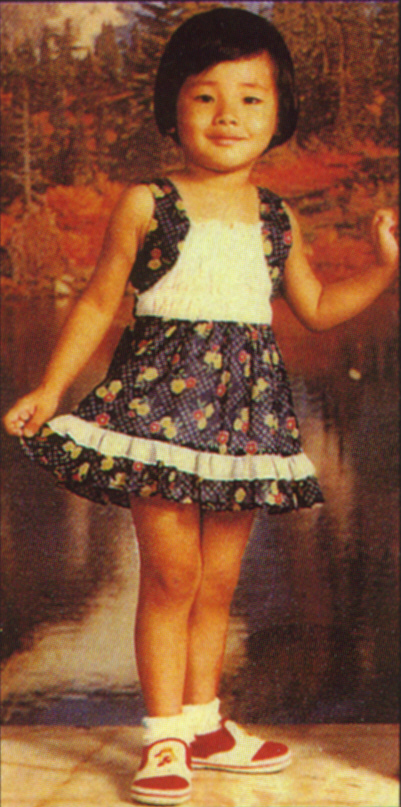 Of course they are.......especially when little sharon has those pinch-able cheeks...heehee
August 13th 1999
HAPPY twenty-four, SHARON!
Yup, it's Sharon's Birthday, and if you haven't left any birthday note for her, do it quick!! At least you'll be in time for a belated birthday greeting, just mail it to the ever so obliging Daniel at xomaru@singnet.com.sg and he'll forward it to Sharon, no postage needed, what a deal! (guess i watched too much sellavision ads, be thankful that I didn't add in the "money-back guarantee")
What is a birthday without the birthday song, so here goes *clears throat*...ahem :

August 9th 1999
Sharon was among the four emcees (which included Gurmit Singh, Andrea de Cruz and RSAF pilot, Captain Zakir) who hosted the last National Day Parade of the millennium and i must say they did a really good job judging from how they fared during the rehearsals. I thought the mass display segment was awesome (that goes without saying, i was involved in it...hee~). Unfortunately, there weren't many shots of the hosts on TV, in fact the most decent shot I think was the one which showed their backs! My view of the hosts (during the finale) wasn't any better either, just a bit larger than the size of an ant, but Sharon's dress kind of stood out as it was white in color, hmm...very angelic. The fireworks were spectacular, so in future, if any of you ever get your hands on the NDP tix, seize the chance!! Nothing beats being there live, the atmosphere is just gggrrreat!*sigh* I'm already starting to suffer from the many symptoms of post-ndp blues =( ....